"The grapes are ripe again as they were in the past. The vine finishes its cycle quite normally, without heat strokes neither on the leaves, nor on the bunch "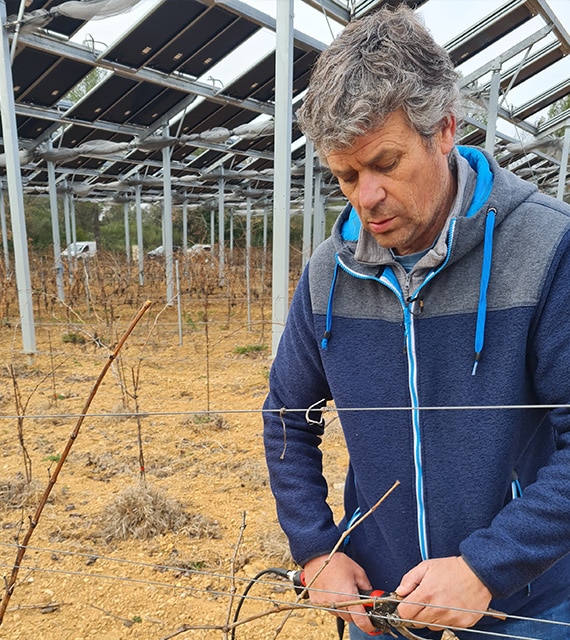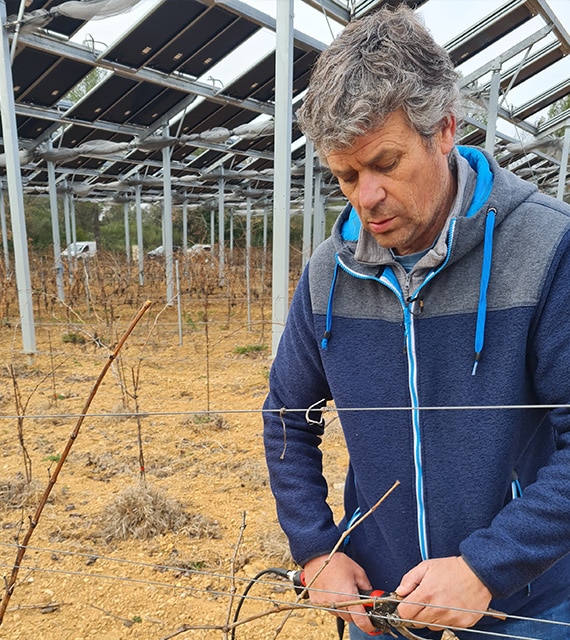 "In the middle of a drought the impact of Ombrea is obvious. Underneath the solutions, you have a plant that is very green and resourceful. Outside, the plant would dry out even with watering."
This project is our first demonstrator on vines made from one of the most represented grape varieties, Grenache. This grape variety is strongly concerned by problems of decline on a national scale. The objective of climate protection is therefore to perpetuate this emblematic crop of Provence while maintaining the yield and quality of the wine produced
"The results obtained from this demonstrator on a wine grape variety that is emblematic of Provence confirm the assumptions we made about climate protection applied to vines.
The benefits of the Ombrea solution
Ensuring access to light during key phases of development
Reducing frost related risks
Guaranting an adequate time course of the maturation process
Protecting the vine from thermal, hydric and oxidative stress
Guaranting cold accumulation
Ensuring the good progress of the carbon and nitrogen reserve
Higher yields under shade in number of clusters, cluster weight and weight per vine
At equivalent TAV: more acidity under shade (pronounced effect on malic acid)
Staggering of the harvests under shade by 5 to 9 days and advancement of 1 year on the date of the first harvest for the controlled plot
Effects on weather conditions
51% reduction in hours above 35°C
Systematically lower under controlled shading
66% reduction in the amount of sunlight that can damage crops
A 32% reduction in atmospheric water stress periods
Yield
Higher yields under shade in number of clusters, cluster weight and weight per vine
Quality
At equivalent TAV: more acidity under shade (pronounced effect on malic acid)
Harvest
Staggering of the harvests under shade by 5 to 9 days and advancement of 1 year on the date of the first harvest for the controlled plot
Effect on climatic conditions
Air temperature
51% reduction in hours above 35°C
Soil temperature
systematically lower under controlled shading
Sunshine
66% reduction in the amount of sunlight that can damage crops
Water stress
A 32% reduction in atmospheric water stress periods